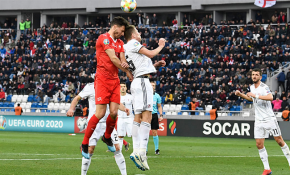 FIFPro and Swiss player association SAFP welcome the decision by the Swiss football association (SFV) to give Fabian Schaer enough time to recover from his head injury and leave him out of Tuesday's Euro qualifier against Denmark.
During Saturday's match against Georgia, Schaer passed out after clashing heads with an opponent. The Swiss international was allowed to continue playing even though he showed signs of a suspected concussion such as loss of consciousness, a lack of balance and a headache. A Georgian player appeared to prevent Schaer from swallowing his tongue.
In a letter sent today, FIFPro and the Swiss union asked the Swiss football federation to apply the official concussion protocol to prevent incidents similar to Schaer's. Both player associations also reminded the SFV of the gradual return-to-play protocol, which defines the mandatory steps and time before a player is allowed to fully compete.
In the meantime, the SFV had also realized that Schaer needed more time to recover from his head injury.
"It is a positive sign that the Swiss football association understands the importance of prioritizing Schaer's health," said Jonas Baer Hoffmann, FIFPro Director of Policy. "Of course, we know he would like to play, but he has to be protected. Another blow to the head could have serious consequences for his long-term health."
SCHAER, LOPES, OSPINA
Schaer's incident follows recent situations with goalkeepers Anthony Lopes (Olympique Lyon) and David Ospina (Napoli) in the last two weeks. Lopes lost consciousness in a match against Barcelona, but was allowed to play on for ten minutes before being substituted. Ospina clashed with an opponent in a league match, yet remained on the pitch until he lost consciousness thirty minutes later.
The Schaer and Lopes incidents happened in official UEFA competitions and are proof that the current concussion protocol in professional football is not protecting players adequately.
FIFPro has been lobbying competition organisers to introduce changes to correct these failures which risk seriously damaging the health of players.
It is important, for example, that an independent doctor helps the team physician to decide on whether a player with a suspected concussion can continue on the field.
Furthermore, a temporary substitute should be allowed on the field to allow medical staff sufficient time to review whether an injured player has a concussion.
Other measures include a mandatory application of the gradual return-to-play protocol.
(Bild: Keystone-SDA)