Gianluigi Buffon, Leonardo Bonucci and Neymar JR join Lionel Messi and Cristiano Ronaldo among others in the 2016-2017 FIFA FIFPro World 11, which is chosen by professional footballers worldwide.
The two Italians and the Brazilian are the only players who were not included in the previous team. Buffon and Neymar have been selected before: Buffon in 2005-2006 and 2006-2007 and Neymar in 2015. Bonucci makes his World 11 debut.
A record number of 26,622 players from 71 countries participated in the vote organized by FIFPro, the world's player union, which through its member unions invited players to pick a team of 1 goalkeeper, 4 defenders, 3 midfielders and 3 forwards.
THE WORLD 11 IS:
Player (country, last season's team/current team)
Goalkeeper:
Gianluigi Buffon (Italy, Juventus)
Defenders:
Dani Alves (Brazil, Juventus/currently Paris Saint-Germain)
Leonardo Bonucci (Italy, Juventus/currently AC Milan)
Sergio Ramos (Spain, Real Madrid)
Marcelo (Brazil, Real Madrid)
Midfielders:
Luka Modric (Croatia, Real Madrid)
Toni Kroos (Germany, Real Madrid)
Andrés Iniesta (Spain, Barcelona)
Forwards:
Lionel Messi (Argentina, Barcelona)
Cristiano Ronaldo (Portugal, Real Madrid)
Neymar JR (Brazil, Barcelona/currently Paris Saint-Germain)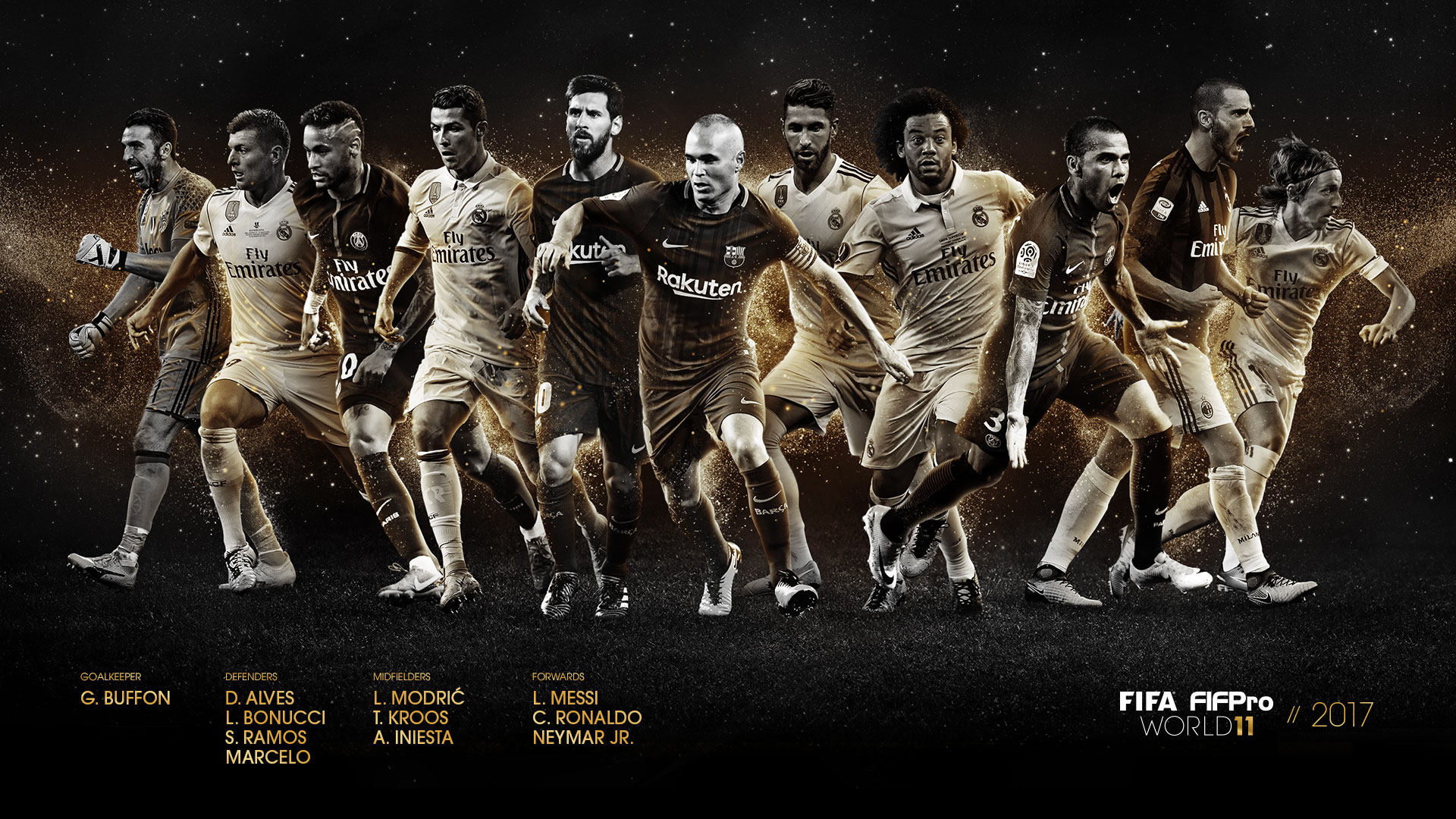 WORLD 11 FACTS:
This is the 13th edition of the World 11. The award was established by FIFPro, the World Players' Union, in 2005, and later merged with FIFA in 2009.
Messi and Ronaldo have been selected for the eleventh (straight) time. They both share the record for most appearances.
The numbers 3, 4 and 5 on this all-time list are also in the new World 11: Iniesta (9), Ramos (8) and Alves (7) respectively.
Marcelo collected his fourth award, Buffon, Kroos and Modric their third and Neymarhis second.
Bonucci is the 55th player to win a World 11 award and the 38th European player. There are 15 South Americans and 2 African players who have been honoured too.
Three players did not return from the 2016 World 11: Manuel Neuer, Gerard Piqué and Luis Suárez.
Of all players, Piqué was closest to making the World 11. However, he still came 1,833 votes short of being included in the team.
Messi received most votes: 22,229. Ramos is second with only 14 fewer selections. Marcelo, Ronaldo and Neymar complete the top 5. (note: defenders statistically have a bigger chance of being selected than players from other lines, as players pick 4 defenders, 3 attackers and midfielders and 1 goalkeeper)
The World 11 consist of players from three teams: Real Madrid (Ramos, Marcelo, Modric, Kroos, Ronaldo), Barcelona (Iniesta, Messi, Neymar) and Juventus (Alves, Bonucci and Buffon).
Barcelona is the team with most World 11 awards: 48. Real is second (38) while Juventus moved into third position, equalling AC Milan's total of 10 trophies.
Italy has equalled France's total of 7 awarded players, trailing Brazil (11) and Spain (9) only. The five other Italians who have been honoured are Fabio Cannavaro, Paolo Maldini, Alessandro Nesta, Andrea Pirlo and Gianluigi Zambrotta.
The Spanish League collected most awards again: 8. On the all-time list La Liga has collected 88 awards, more than all other leagues combined: 59. England is second (24), Italy third (23).
FIFPro received most ballots from Spain, where 1,517 players from all three professional leagues voted. Japan, England, Peru and Venezuela complete the top 5 of countries with most participants.
FIFPro and FIFA changed the format of the poll. Previously it covered performances over a calendar year, but now it is aligned with the majority of competitions which run from August to June.