Im July und August dieses Jahres haben 43,000 Fussballprofis aus den 40 professionellen Spielervereinigung aus der ganzen Welt von FIFPro Stimmzettel erhalten, um aus ihren Reihen die "World XI" auszuwählen: nämlich die vier Verteidiger, drei Mittelfeldspieler, drei Stürmer und den Torhüter den sie am meisten bewundern.
Bemerkenswert ist, dass die 55 nominierten Spieler aus lediglich 4 Ligen stammen. Die Serie A in Italien stellt mit 18, gefolgt von der Premiership in England mit 17, Spaniens La Liga mit 14 und der Bundesliga mit 4 nominierten Spielern.
Chelsea führt die Liste der meist nominierten Spielern mit 8 an, gefolgt von AC Milan mit 7, Barcelona mit 6, Juventus und Bayern München mit je 5 und Arsenal mit 4, Inter mit 3, Valencia 2 und je ein Spieler von der AC Fiorentina, der AS Roma, Palermo, Werder Bremen und Atletico Madrid.
Italien und Brasilien führen die Liste der meist genannten Spieler mit 10 an, gefolgt von 7 Franzosen, 6 Engländern, 4 Deutschen, Argentiner und Portugiesen, 3 Spanier, 2 Holländer; während die Tschechische Republik, die Ukraine, Mexico, Cameroon, und die Elfenbeinküste mit einem Spieler in der Liste der 55 vertreten sind.
Die 55 nominierten Spieler sind: (Nationalität / Klub 2005/2006)
Torhüter: Gianluigi Buffon (Italy/ Juventus), Petr Cech (Czech Republic/ Chelsea), Nelson de Jesus Silva 'Dida' (Brazil/ AC Milan), Jens Lehmann (Germany/ Arsenal), Edwin van der Sar (Holland/ Manchester United)
Verteidiger: Roberto Ayala (Argentina/ Valencia), Marcos Evangelista de Moraes'Cafú' (Brazil/ AC Milan), Fabio Cannavaro (Italy/ Juventus), Roberto Carlos da Silva (Brazil/ Real Madrid), Cícero João de Cezare 'Cicinho' (Brazil/ Real Madrid), Ashley Cole (England/ Arsenal), Rio Ferdinand (England/ Manchester United), William Gallas (France/ Chelsea), Fabio Grosso (Italy/ Palermo), Philipp Lahm (Germany/ Bayern Munchen), Ferreira Lucio (Brazil/Bayern Munchen), Rafael Márquez (Mexico/ Barcelona), Marco Materazzi (Italy/ Inter), Luís Miguel Brito Garcia Monteiro (Portugal/ Valencia), Alessandro Nesta (Italy/ AC Milan), Carles Puyol (Spain/ Barcelona), Willy Sagnol (France/ Bayern Munchen), John Terry (England/ Chelsea), Lilian Thuram (France/ Juventus), Gianluca Zambrotta (Italy/ Juventus).
Mittelfeldspieler: Michael Ballack (Germany/ Bayern Munchen), Anderson Deco (Portugal/ Barcelona), Cesc Fabregas (Spain/ Arsenal), Luis Figo (Portugal/ Inter), Gennaro Gattuso (Italy/ AC Milan), Steven Gerrard (England/ Liverpool), Ricardo Kaká (Brazil/ AC Milan), Frank Lampard (England/ Chelsea), Claude Makalele (France/ Chelsea), Andrea Pirlo (Italy/ AC Milan), Juan Ramon Riquelme (Argentina/ Villareal), Francesco Totti (Italy/ AS Roma), Patrick Vieira (France/ Juventus), Zé Roberto (Brazil/ Bayern Munchen) and Zinedine Zidane (France/ Real Madrid).
Stürmer: Adriano (Brazil/ Inter), Hernan Crespo (Argentina/ Chelsea), Didier Drogba (Ivory Coast/ Chelsea), Samuel Eto'o (Cameroon/ Barcelona), Thierry Henry (France/ Arsenal), Miroslav Klose (Germany/ Werder Bremen), Lionel Messi (Argentina/ Barcelona), Arjen Robben (Holland/ Chelsea), Ronaldinho (Brazil/ Barcelona), Ronaldo (Brazil/ Real Madrid), Cristiano Ronaldo (Portugal/ Manchester United), Wayne Rooney (England/ Manchester United), Andriy Shevchenko (Ukraine/ AC Milan), Luca Toni (Italy/
Fiorentina), Fernando Torres (Spain/ Atletico Madrid).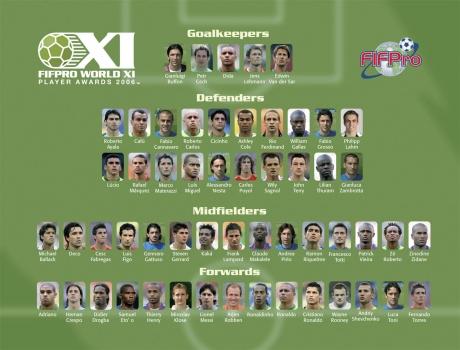 Die endgültige World XI wird an der FIFPro World XI Player Awards Zeremonie in Athen vom 6. November 2006 bekannt gegeben. Der Vergabe der Awards wird die weltweit einzige internationale Spielerwahl durch Spieler.
Am Award Abend werden auch drei weitere Awards präsentiert: der World Player of the Year, für denjenigen Spieler, welcher am meisten Stimmen erhält, den FIFPro Life Time Achievement award, und den ASPIRE FIFPro World Young Player Award.
Theo van Seggelen, General-Sekreträr der FIFPro sagt: "Es gibt keine besseren Fussballkritiker als die Spieler selber. Um von den anderen Professionals weltweit anerkannt zu werden, ist eine einmalige Ehre.
Als Professional wissen diese Spieler, was es braucht, um an die Weltspitze zu gelangen und es ist nur recht, dass der Weltverband der Spieler diese Leistung würdigt.