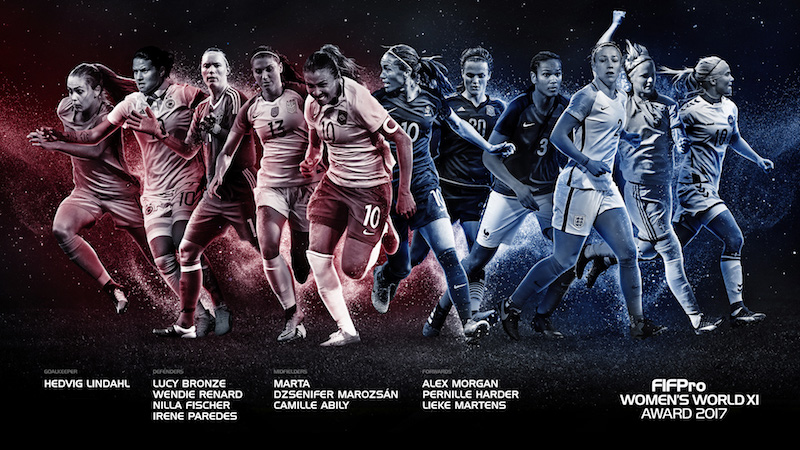 FIFPro proudly presents the new Women's World XI, the all-star team selected by top female players.
Four award winners play for Olympique Lyonnais.Camille Abily, Lucy Bronze, Dzsenifer Marozsan and Wendie Renard are all part of the French club which has been dominating European and French club football, with two consecutive triples (French league and cup, and European Champions League titles).
Alex Morgan was also a member of the Olympique Lyonnais team that won last season's triple, while playing on loan from Orlando Pride.
"It's always exciting to be considered as one of the top players in the world,"Morgan told FIFPro. "For women's football to have our own World XI is incredible. It helps promote the women's game. It helps female footballers recognize the talent among their peers and I'm really happy to encourage and be a part of that."
"It is a huge honour,"Lieke Martens told FIFPro. "I am a little surprised that I received most votes of all players. I like it, but I know that there are so many very good players like Pernille Harder, Eugenie le Sommer, Ada Hegerberg and many others. I played an important role in the success of the Dutch national team and now people know that I can play very well."
More than 4,100 female first-division footballers in 45 countries voted for the World XI based on 2017 performances.
It is the third time that FIFPro has organized this unique poll, in which footballers select one goalkeeper, four defenders, three midfielders and three attackers.
THE 2017 FIFPRO WOMEN'S WORLD XI IS:
Goalkeeper
Hedvig Lindahl (Sweden – Chelsea FC)
Defenders
Lucy Bronze (England – Olympique Lyonnais)
Nilla Fischer (Sweden – VfL Wolfsburg)
Wendie Renard (France – Olympique Lyonnais)
Irene Paredes (Spain – Paris Saint-Germain)
Midfielders
Camille Abily (France – Olympique Lyonnais)
Dzsenifer Marozsán (Germany – Olympique Lyonnais)
Marta Vieira da Silva (Brazil – Orlando Pride)
Attackers
Pernille Harder (Denmark – VfL Wolfsburg)
Lieke Martens (The Netherlands – FC Barcelona)
Alex Morgan (United States – Orlando Pride)
FACTS AND FIGURES
Wendie Renard is the only player voted in all three World XI's.
Next to Renard, four players kept their spot in the World XI: Nilla Fischer, Dzsenifer Marozsan, Marta and Alex Morgan.
Gone are Ada Hegerberg, Ali Krieger, Carli Lloyd, Leonie Maier, Eugenie Le Sommer and Hope Solo.
Camille Abily, Lucy Bronze, Pernille Harder, Hedvig Lindahl, Lieke Martens and Irene Paredes are making their debut in the World XI.
Lieke Martens received the most votes: 1,251 players selected her in their World XI. Lucy Bronze was second, followed by Wendie Renard.
Three players were in a close battle for the third midfielder's position. Marta clinched the award, beating Carli Lloyd and Victoria Losada by four and seven votes respectively.
For the third consecutive year Olympique Lyonnais is the club with most World XI players. Orlando Pride (Marta and Morgan) and VfL Wolfsburg (Fischer and Harder) both have two.
Bronze is the first English player to be on the team, Harder the first Dane, Martens the first Dutch woman and Paredes the first Spaniard.
The USA has won 9 World XI places in the first three years, followed by France (7) and Germany (5).
Five of the team are currently at clubs in the French league.