Zurich,30.04.2021
Social media companies must do more to stop online abuse. That is why this weekend we are coming together with English football and other sports and organisations, to boycott social media and demand change.
SAFP will join English football and wider sport in switching off our Facebook, Twitter and Instagram accounts, from 3pm Friday 30 April to 11.59pm on Monday 3 May.
Why are we boycotting social media?
We want to demonstrate our collective anger at the constant abuse on social media received by footballers and people in the game, as well as others across the world, which goes without any real-world consequences for perpetrators.
We know that a boycott alone with not eradicate the scourge of online discriminatory abuse, which is why we will continue to take proactive steps to call for change. We will not stop challenging social media companies until we see enough progress.
What change do we want to see?
We are asking for significant action from social media companies, including:
Apply preventative filtering and blocking measures to stop discriminatory abuse being sent or seen
Be accountable for safety on platforms and protect users by implementing effective verification
Ensure real-life consequences for online discriminatory abuse: ban perpetrators, stop account re-registration and support law enforcement
A warning message to be displayed if a user writes an abusive message and need to enter personal data if they wish to send the message
Platforms to have robust, reliable and quick measures in place if abusive material is sent or posted
Transparent quarterly reports on the work social media companies are doing, internally and externally, to eradicate abuse on their platforms
We are also urging Governments to ensure and put in place stronger legislation to make social media companies more accountable for what happens on their platforms.
How can you help?
By reporting online abuse to the police, you can help stop the behaviour and protect other people from seeing the abusive content. Online abuse does not have to be experienced directly by someone in order for that person to report. Everyone has a responsibility to report online hate they see.
SAFP is supporting players and does take a stand against online abuse that is taking place more and more in our society.
Dr Lucien Valloni, SAFP President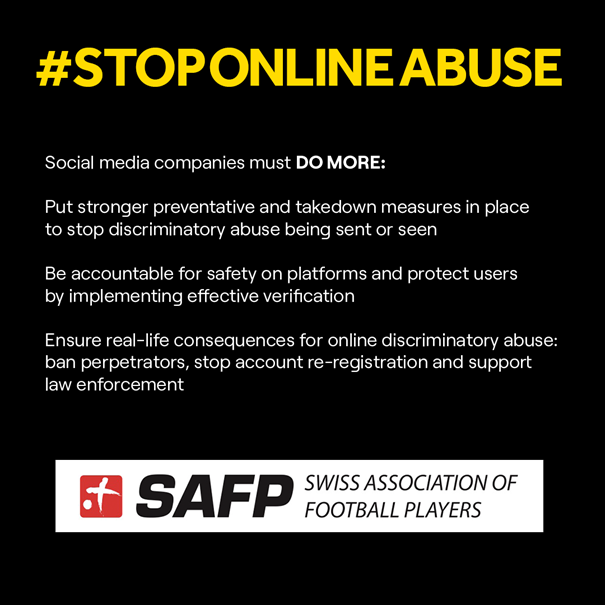 ---
Zurich, 30.04.2021
Social-Media-Unternehmen müssen mehr tun, um Online-Verunglimpfungen und Beschimpfungen zu stoppen. Deshalb kommen wir dieses Wochenende mit dem englischen Fussball und anderen Sportarten und Organisationen zusammen, um soziale Medien zu boykottieren und Veränderungen zu fordern.
SAFP wird sich dem englischen Fussball und dem breiteren Sport anschliessen und unsere Facebook-, Twitter- und Instagram-Konten von Freitag, den 30. April, 15 Uhr, bis Montag, den 3. Mai, 23.59 Uhr, abschalten.
Warum boykottieren wir die sozialen Medien?
Wir wollen unseren kollektiven Zorn über die ständigen Beschimpfungen in den sozialen Medien zeigen, die Fußballer und andere Menschen in diesem Sport sowie auf der ganzen Welt erhalten, ohne dass dies reale Konsequenzen für die Täter hat.
Wir wissen, dass ein Boykott allein die Geissel des diskriminierenden Online-Missbrauchs nicht beseitigen kann, weshalb wir weiterhin proaktive Schritte unternehmen werden, um Veränderungen zu fordern. Wir werden nicht aufhören, Social-Media-Unternehmen herauszufordern, bis wir genügend Fortschritte sehen.
Welche Veränderung wollen wir sehen?
Wir fordern signifikante Massnahmen von Social-Media-Unternehmen, darunter:
Anwendung von präventiven Filter- und Blockierungsmassnahmen, um zu verhindern, dass diskriminierender Inhalt gesendet oder gesehen wird.
Verantwortung für die Sicherheit auf ihren Plattformen zu übernehmen und die Nutzer durch effektive Verifizierung zu schützen.
Sicherstellung realer Konsequenzen für diskriminierenden Online-Missbrauch: Sperrung von Tätern, Stoppen der Neuregistrierung von Konten und Unterstützung der Strafverfolgung.
Eine Warnmeldung soll angezeigt werden, wenn ein Nutzer eine beleidigende Nachricht schreibt und persönliche Daten eingeben muss, wenn er die Nachricht senden möchte.
Plattformen sollen über robuste, zuverlässige und schnelle Massnahmen verfügen, wenn missbräuchliches Material gesendet oder gepostet wird.
Transparente vierteljährliche Berichte über die Arbeit, die Social-Media-Unternehmen intern und extern leisten, um Missbrauch auf ihren Plattformen auszumerzen.
Wir fordern die Regierungen ausserdem auf, für eine strengere Gesetzgebung zu sorgen und diese umzusetzen, um Social-Media-Unternehmen stärker in die Verantwortung für das zu nehmen, was auf ihren Plattformen geschieht.
Wie können Sie helfen?
Indem Sie Online-Missbrauch bei der Polizei melden, können Sie dazu beitragen, das Verhalten zu stoppen und andere Menschen davor zu schützen, die missbräuchlichen Inhalte zu sehen.
SAFP unterstützt Spieler und bezieht Stellung gegen Online-Missbrauch, der in unserer Gesellschaft immer häufiger vorkommt.
Dr. Lucien Valloni, SAFP Präsident
---
Zurich, 30.04.2021
Les entreprises de médias sociaux doivent faire davantage pour mettre fin aux abus en ligne. C'est pourquoi, ce week-end, nous nous unissons au football anglais et à d'autres sports et organisations, pour boycotter les médias sociaux et exiger des changements.
La SAFP se joindra au football anglais et à d'autres sports pour éteindre ses comptes Facebook, Twitter et Instagram, du vendredi 30 avril à 15h00 au lundi 3 mai à 23h59.
Pourquoi boycottons-nous les médias sociaux ?
Nous voulons démontrer notre colère collective face aux abus constants sur les médias sociaux reçus par les footballeurs et les personnes du jeu, ainsi que d'autres personnes à travers le monde, qui vont sans aucune conséquence réelle pour les auteurs.
Nous savons qu'un boycott seul ne suffira pas à éradiquer le fléau des abus discriminatoires en ligne, c'est pourquoi nous continuerons à prendre des mesures proactives pour appeler au changement. Nous ne cesserons pas d'interpeller les entreprises de médias sociaux tant que nous n'aurons pas constaté suffisamment de progrès.
Quel changement voulons-nous voir ?
Nous demandons aux entreprises de médias sociaux de prendre des mesures significatives, à savoir:
Appliquer des mesures de filtrage et de blocage préventives pour empêcher que des abus discriminatoires soient envoyés ou vus.
être responsables de la sécurité sur les plateformes et protéger les utilisateurs en mettant en place des vérifications efficaces
Assurer des conséquences réelles pour les abus discriminatoires en ligne : interdire les auteurs, empêcher le réenregistrement des comptes et soutenir les forces de l'ordre.
Afficher un message d'avertissement si un utilisateur écrit un message abusif et doit saisir des données personnelles s'il souhaite envoyer le message.
Les plateformes doivent mettre en place des mesures robustes, fiables et rapides en cas d'envoi ou de publication de matériel abusif.
des rapports trimestriels transparents sur le travail effectué par les entreprises de médias sociaux, en interne et en externe, pour éradiquer les abus sur leurs plateformes.
Nous exhortons également les gouvernements à garantir et à mettre en place une législation plus stricte afin que les sociétés de médias sociaux soient davantage responsables de ce qui se passe sur leurs plateformes.
Comment pouvez-vous nous aider ?
En signalant les abus en ligne à la police, vous pouvez contribuer à mettre fin à ce comportement et empêcher d'autres personnes de voir le contenu abusif. Il n'est pas nécessaire qu'une personne soit directement victime d'un abus en ligne pour qu'elle le signale. Tout le monde a la responsabilité de signaler la haine en ligne dont il est témoin.
La SAFP soutient les joueurs et prend position contre les abus en ligne qui se produisent de plus en plus dans notre société.
Dr Lucien Valloni, Président de la SAFP
---
Zurigo, 30.04.2021
Le aziende dei social media devono fare di più per fermare gli abusi online. Ecco perché questo fine settimana ci uniremo al calcio inglese e ad altri sport e organizzazioni, per boicottare i social media e chiedere un cambiamento.
La SAFP si unirà al calcio inglese e allo sport in generale per spegnere i nostri account Facebook, Twitter e Instagram, dalle 15 di venerdì 30 aprile alle 23.59 di lunedì 3 maggio.
Perché stiamo boicottando i social media?
Vogliamo dimostrare la nostra rabbia collettiva per il costante abuso sui social media ricevuto da calciatori e persone nel gioco, così come altri in tutto il mondo, che va senza alcuna conseguenza nel mondo reale per i perpetratori.
Sappiamo che un boicottaggio da solo non può sradicare la piaga dell'abuso discriminatorio online, ed è per questo che continueremo a fare passi proattivi per chiedere un cambiamento. Non smetteremo di sfidare le aziende di social media finché non vedremo abbastanza progressi.
Quale cambiamento vogliamo vedere?
Chiediamo un'azione significativa da parte delle aziende di social media, tra cui
Applicare misure preventive di filtraggio e di blocco per impedire l'invio o la visione di abusi discriminatori
Essere responsabili della sicurezza sulle piattaforme e proteggere gli utenti implementando una verifica efficace
Garantire conseguenze reali per l'abuso discriminatorio online: bandire gli autori, bloccare la ri-registrazione degli account e sostenere le forze dell'ordine
Un messaggio di avvertimento da visualizzare se un utente scrive un messaggio abusivo e la necessità di inserire dati personali se si desidera inviare il messaggio
Le piattaforme devono avere misure robuste, affidabili e rapide in atto se viene inviato o postato materiale abusivo
Rapporti trimestrali trasparenti sul lavoro che le aziende di social media stanno facendo, internamente ed esternamente, per sradicare gli abusi sulle loro piattaforme
Stiamo anche esortando i governi a garantire e mettere in atto una legislazione più forte per rendere le aziende di social media più responsabili di ciò che accade sulle loro piattaforme.
Come puoi aiutare?
Segnalando l'abuso online alla polizia, puoi contribuire a fermare il comportamento e proteggere altre persone dal vedere i contenuti abusivi. L'abuso online non deve essere vissuto direttamente da qualcuno per poterlo segnalare. Tutti hanno la responsabilità di segnalare l'odio online che vedono.
La SAFP sostiene i giocatori e prende posizione contro gli abusi online che avvengono sempre più spesso nella nostra società.
Dr Lucien Valloni, Presidente della SAFP