SAFP Mitglieder können SAFP/FIFPro Online Academy nutzen und einen Bachelor Degree in Sport Managment absolvieren.
SAFP members can use SAFP/FIFPro Online Academy and complete a Bachelor Degree in Sport Management.
Les membres de la SAFP peuvent utiliser l'Académie en ligne SAFP/FIFPro et obtenir une licence en gestion du sport.
I soci SAFP possono utilizzare la SAFP/FIFPro Online Academy e conseguire una laurea in Gestione dello Sport.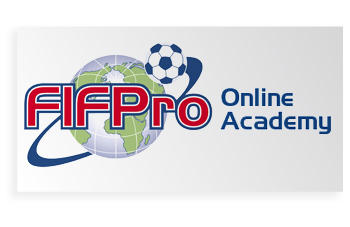 SAFP ist stolz, seinen Mitgliedern die Möglichkeit zu bieten, einen Bachelor in Sport Managment anzubieten.
Dieser Studiengang dauert 7 Semester und die SAFP Mitglieder mit CH- oder EU-Pass können diesen Kurs gratis besuchen.
Die einzigen Kosten, die die Spieler selber tragen müssen, sind die Bücherkosten von ca. EURO 200 pro Semester sowie die einmalige Einschreibgebühr von EURO 300. Normalerweise würde ein entsprechendes Studium ca. CHF 40'000 kosten!
SAFP Präsident Lucien Valloni: "Das ist ein Meilenstein für Profisportler, weil dieser Studiengang unabhängig vom jeweiligen Arbeitsort absolviert werden kann. Es ist für jeden Profifussballer wichtig, sich auch Gedanken über seine Zukunft nach der Karriere als Profifussballer zu machen. Mit dieser Ausbildung, die berufsbegleitend möglich ist, füllen wir eine Lücke für die Fussballprofis. SAFP Mitglieder könne sich für den nächsten Studiengang anmelden."
SAFP is proud to offer its members the opportunity to earn a Bachelor in Sport Management.
This course lasts 7 semesters and SAFP members with a CH or EU passport can attend this course free of charge.
The only costs that the players have to pay for themselves are the book costs of about EURO 200 per semester and the one-time enrolment fee of EURO 300. Normally, a corresponding study course would cost about CHF 40'000!
SAFP President Lucien Valloni: "This is a milestone for professional athletes, because this course of study can be completed regardless of where they work. It is important for every professional footballer to also think about their future after their career as professional footballers. With this training, which can be completed while working, we are filling a gap for professional footballers. SAFP members can register for the next course of study".
La SAFP est fière d'offrir à ses membres la possibilité d'obtenir une licence en gestion du sport.
Ce cours dure 7 semestres et les membres du SAFP possédant un passeport CH ou UE peuvent y assister gratuitement.
Les seuls coûts que les joueurs doivent payer eux-mêmes sont les frais de livres d'environ 200 euros par semestre et les frais d'inscription uniques de 300 euros. Normalement, un cours d'étude correspondant coûterait environ 40'000 francs suisses !
Lucien Valloni, président de la SAFP : "C'est une étape importante pour les athlètes professionnels, car cette formation peut être suivie quel que soit leur lieu de travail. Il est important pour chaque footballeur professionnel de penser également à son avenir après sa carrière de footballeur professionnel. Avec cette formation, qui peut être complétée tout en travaillant, nous comblons un vide pour les footballeurs professionnels. Les membres du SAFP peuvent s'inscrire au prochain cours d'études".
SAFP è orgogliosa di offrire ai suoi membri l'opportunità di conseguire una laurea in Gestione dello Sport.
Questo corso dura 7 semestri e i membri della SAFP con passaporto CH o UE possono frequentare gratuitamente questo corso.
Gli unici costi che i giocatori devono sostenere per se stessi sono i costi del libro di ca. 200 euro a semestre e la tassa di iscrizione una tantum di 300 euro. Normalmente un corso di studio corrispondente costerebbe ca. 40'000 franchi!
Il presidente della SAFP Lucien Valloni: "Questa è una pietra miliare per gli atleti professionisti, perché questo corso di studi può essere completato indipendentemente dal luogo in cui lavorano. È importante che ogni calciatore professionista pensi anche al suo futuro dopo la carriera di calciatore professionista. Con questa formazione, che può essere completata mentre si lavora, stiamo colmando una lacuna per i calciatori professionisti. I membri della SAFP possono iscriversi al prossimo corso di studi".
See also: FIFPRO ONLINE ACCADEMY
More information and registration:
SAFP
Claudio Zanini
Flughofstrasse 39
8152 Glattbrugg
Tel. 079 750 71 34
zanini@safp.ch