Victor Ashinga broke into the Kenyan Premier League as a 17-year-old, but the midfielder has been plagued by injuries and other challenges
Ashinga, who is the Recruitment and Welfare officer of Kenyan footballers union KEFWA, has returned to professional football after a lengthy injury lay-off with FC Talanta
In this candid interview with FIFPRO, the 28-year-old opens up about his struggles with mental health and suicidal thoughts that plagued him in his third season in the top-flight
I was playing for Nairobi City Stars, but the team was not financially stable. I had finished secondary school, so playing football was a full time job. And at the same time, I had enrolled to study sport science at Kenyatta University. I was able to balance the two: education and football. At the time I was also still getting some support from my parents.
I had moved out from my parents' house and was staying with another footballer. The club's financial instability led to some challenges. At one point I was supposed to get the money to go to university after training and I could not raise it. And at the same time I had to put something on the table and had to pay bills. There was rent to pay, but at the same time we were not being paid regularly.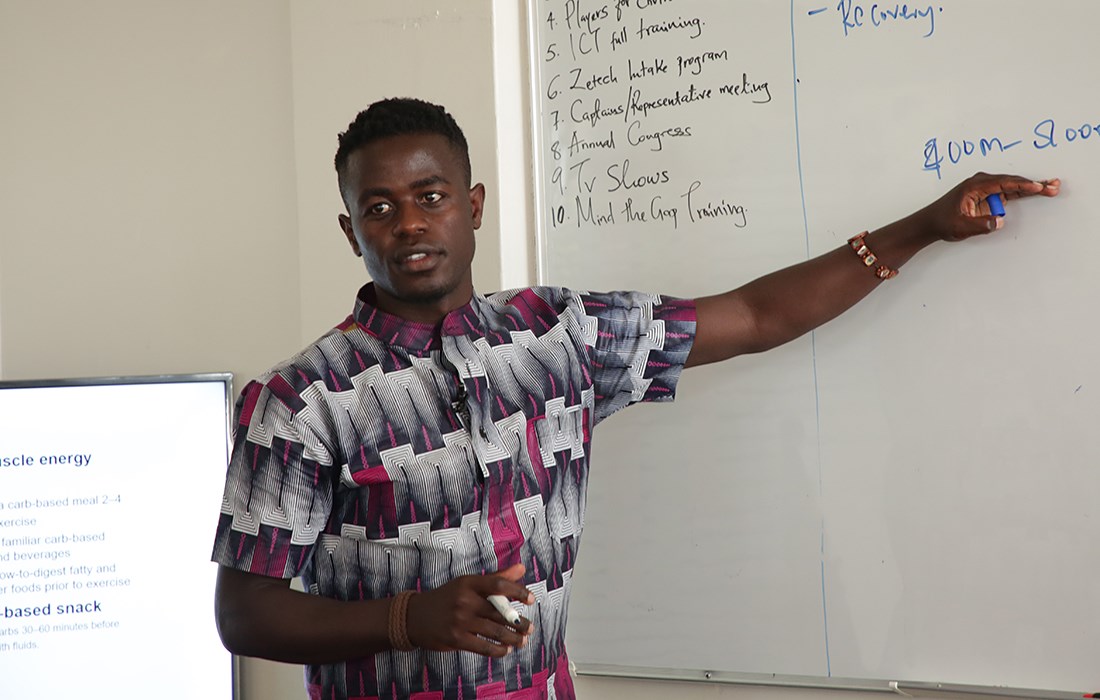 As a footballer, there were also always women around and I made one of them – and let me not say unfortunately, but fortunately – pregnant. She was still living in her parents' house at the time, but her parents chased her from their home when she told them she was pregnant. She came to me and said she had been chased away, so we had to stay together.
At this time, there were too many challenges. We went without pay from the club for months, with her living with me and the team-mate. So I asked my team-mate if he would mind giving me some space to sort out the issues by moving out of the house and coming back once the baby was born. He said that he would be willing to do so, but I would have to pay all the costs. This was a major challenge as he would be without a salary for months, but it was also expected from me that I pay all the bills, give my best performance on the field and prepare for exams at university.
It was all getting too much for me.
I went to see a physician and asked him about abortions. I wanted to know everything about the procedures, the fee and the implications. I wanted to make sure that if I go and speak to the woman, I would have all the facts. I told her that everything was not adding up and we were also not connecting very well. At the same time the coach was also telling me that my performance was not good enough and he was considering terminating my contract. I pleaded with him to give me time to sort out my problems.
I then went to see a team-mate and spoke to him about my problems. But he did not really help. He just told me to chase the woman away. He lived on the fourth floor, and I remember going out onto the balcony and looking down. Thoughts crossed my mind that I should just jump down and forget about all the issues I was facing. I had many suicidal thoughts. But the same day I also said to myself that this was too much. I had to speak out and the next day I went home to share my problems with my parents. They were so receptive that I realized I should have gone to them much earlier, but I was nervous. They told me that they would welcome the lady and I should tell her to come to visit.
I also opened up to the coach and told him what I was going through and that there was too much pressure. The coach was very positive, and he offered me very positive advice. He also spoke to the other players and told them that we needed to look out for each other. From then on, I was able to focus. The lady gave birth to a beautiful baby girl. We are not together anymore, but my daughter, Junnel, is now seven years old and she lives with me.
I would encourage all players facing similar – or other problems – to accept that these things happen. And then to speak about them. To speak up, that is half the problem solved. Players don't like speaking up because of stigmatisation. In Kenya we have a Swahili saying ''Mwanaume ni kukaa ngumu,'' which means something along the lines that men should be strong, no matter what. But men can also be strong by opening up about their challenges. It takes strength to do that.