Sixty eight percent of all Premier League players have now had both doses of the Covid-19 vaccine, the league has announced.
The Premier League also confirmed that 81% of players have had at least one jab.
The numbers mark a large increase in uptake of the vaccine.
"This latest data shows the tide is very clearly turning," Professor Jonathan Van-Tam, England's deputy chief medical officer, told BBC Sport.
"It shows that people are listening to sensible messages from well-informed health professionals. That is where you get the good advice from, you don't get it from the internet, or Instagram or Facebook.
"It is brilliant and is a real positive change."
At the end of September there were only seven clubs in the Premier League where more than 50% of players were fully vaccinated.
"Vaccination rates are collected by the Premier League on a weekly basis and the league continues to work with clubs to encourage vaccination among players and club staff," the league said.
In an interview with BBC sports editor Dan Roan, Prof Van-Tam believes more players will get vaccinations if not being jabbed compromises their ability to travel outside of the UK to play.
"I think the figures will rise more as it becomes obvious it is going to be difficult to travel internationally without having been vaccinated," said Prof Van-Tam.
"Football players will undoubtedly want to travel abroad – for leisure time as well as their tournaments and competitions."
In the English Football League, the BBC understands that, as of September, 49% of players were fully vaccinated – up from 18% the previous month.
Vaccination rates in English football are lower than a number of other sports and leagues, with Professor Van-Tam saying he was frustrated by there not being a higher take-up rate.
"All over the world we have seen, not just in the UK, vaccine acceptance rates for Covid are a bit lower in the younger adult age groups," he said.
"It is disappointing. Especially when you are someone like me who has given the last 18 months of your life in the quest to get vaccines as quickly as possible for the UK.
"For somebody like me who has burnt a lot of energy and cost my family lots of attention to get there, of course it is disappointing.
"But the latest data we have seen from the Premier League is very encouraging."
'What athletes say and do really matters' – Van-Tam urges young adults to get vaccinated
Earlier this month Republic of Ireland international Callum Robinson revealed he had chosen not to be vaccinated against Covid-19, despite twice contracting the virus.
Robinson was speaking days after Liverpool boss Jurgen Klopp expressed exasperation with Premier League players who have not had the vaccine.
Klopp said that "99%" of his players have been vaccinated and that he had not had to convince them to do so, adding that he was jabbed to protect not just himself but "all the people around me".
"My message to footballers who are yet to be vaccinated is really the same to any young adult who has yet to be vaccinated: it is the best thing you can do for yourself, your friends and your family," said Prof Van-Tam.
"This is a really infectious virus, we are quite clear about that. The chances of you dodging it, swerving it or out-running it for the next few months, or few years, is nigh on impossible.
"So from that perspective it is really important to get the vaccine.
"It is going to massively reduce the chances of you getting infected and even if you are infected after it, it is going to massively reduce the chances of anything bad happening to you."
Prof Van-Tam said he understands the concerns of athletes about possible side-effects, stressing there are "risks and benefits to every single medicine".
"We are very clear there is a documented risk of myocarditis – inflammation of the heart – associated with the vaccine which is being offered to the under 40s. But it is extremely rare," he said.
"You must say 'what are the risks of myocarditis if I get Covid?' There is a new medical paper out in the United States which says the rates of myocarditis are six times higher after Covid than they are after vaccination.
"By all means choose the lowest risk pathway. But the lowest risk pathway is not to take chances with Covid."
Nobody should feel under pressure to disclose their vaccine status or speak openly about personal health records if they don't want to, said Prof Van-Tam.
But he added more athletes being open and transparent about taking the vaccine is "better and more helpful to others".
"I'm mad about football, most of this country is mad about football or another sport and sporting icons mean a huge amount to us," said Prof Van-Tam, a season-ticket holder at National League North club Boston United.
"Whether they like it or not footballers and sports people are role models, particular for young adults and children. What they say and do really matters."
'Trust health professionals, don't trust Instagram'
Premier League managers have previously called on their players to get immunised, including Klopp, Pep Guardiola, Mikel Arteta, Nuno Espirito Santo, Steve Bruce and Graham Potter.
"At their age they are more open to some of these conspiracy theories," England manager Gareth Southgate said of younger people in the UK.
"They are reading social media more, they are perhaps more vulnerable to those sort of views.
"From what I can see there is a bit of confusion around."
Prof Van-Tam agrees with Southgate's view, saying he is worried about the influence of social media and influence of untrusted sources on the decision-making process of young people about the vaccines.
"If your boiler goes you don't call a doctor, you call a central heating engineer," said Prof Van-Tam.
"If you want to know something about vaccines, and you want trusted, reliable information about what you should do and what the best course of action is, turn to somebody who has spent years and years of training for that role.
"Turn to health professionals, a doctor, a nurse or a pharmacist. Go to the right sources. Don't trust Instagram."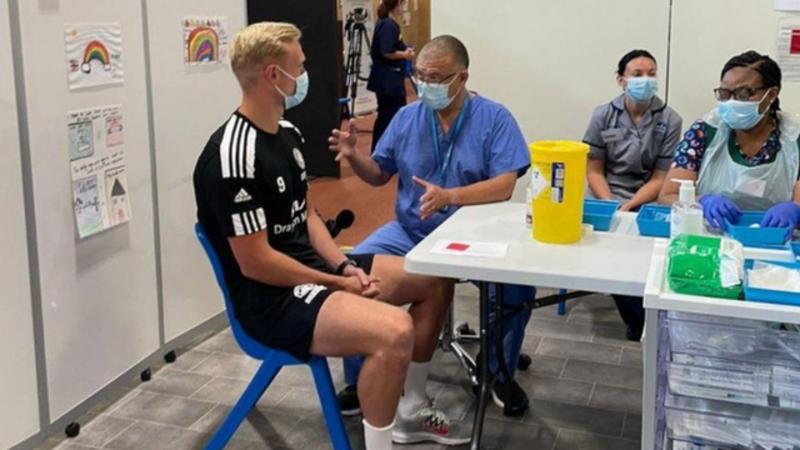 (BBC, 19.10.2021)