Switzeralnd will play against Spain and Italy ad 2011 FIFPro Tournament
Holland and Italy kick off 2011 FIFPro Tournament
Wednesday 22 June
FIFPro president Leonardo Grosso and members of the FIFPro board Wednesday assisted with the draw for the seventh FIFPro Tournament, to be played in Rijnsburg, The Netherlands on 16 and 17 July.
Each summer FIFPro organizes the FIFPro Tournament to help footballers without a contract find a new professional club. FIFPro invites clubs, scouts and technical directors to see the players in action. It is up to the players to show their best in an effort to find a new professional football club, just like many of their colleagues have done during previous FIFPro Tournaments.
This year's edition of the FIFPro Tournament has a new format. On Saturday 16 July, the first day, seven teams will each play two matches. All results of these seven matches will lead to one table.
On Sunday, the winner of Saturday's competition will play a match against Almere City FC, a team from the Dutch second division, and play a full 90-minute match.
The six other teams will play one more group match to define their position on the final table. The draw for these three matches will be done on Saturday evening.
This year, Holland and Italy will kick off the tournament. Last year's winners, France, meet Denmark.
SAFP President Dr. Lucien W. Valloni said: "It is a real pleasure to be able to play against Spain and Italy. This will be a big challenge and a very good motivation for the Swiss team. I am happy for the players that they can be sure about a big interest of scouts in these games against Spain and Italy."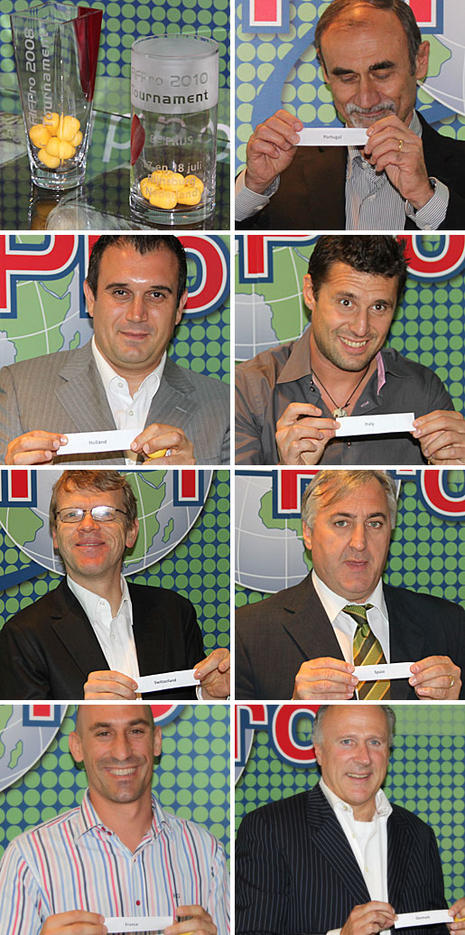 | | | |
| --- | --- | --- |
| Saturday 16 July | | |
| 11.00 h (2×30 minutes) | Holland | –Italy |
| 12.15 h | Switzerland | –Spain |
| 13.30 h | France | –Denmark |
| 14.45 h | Portugal | –Holland |
| 16.00 h | Italy | –Switzerland |
| 17.15 h | Spain | –France |
| 18.30 h | Denmark | –Portugal |
| | | |
| Sunday 17 July | | |
| 12.00 h (2×30) | Match 1 | |
| 13.15 h (2×30) | Match 2 | |
| 14.30 h (2×30) | Match 3 | |
| 15.45 h (2×45) | Almere City FC | -Number 1 |