FIFPro (Fédération Internationale des Associations de Footballers Professionnels), the worldwide representative organisation for all professional footballers, today announced the 55 players shortlisted for the 4th FIFPro World XI Player Awards.
n August and September this year the 45,000 professional footballers belonging to the 42 professional organisations across the world that form FIFPro received voting forms in a secret ballot to nominate their peers for inclusion in their "World XI" – choosing the four defenders, three midfielders, three forwards and goalkeeper they most admire.
It is striking that, out of the 55 nominees, the majority were playing in England and Spain last season. The English Premiership attracted the most nominees with 21, followed by the Spanish Primera Division with 18. Italy's Serie A attracted 8 nominees, the Bundesliga in Germany 4, the Premier League in Russia 2, and the Premier League in Scotland and Portugal provided 1 each.
Barcelona heads the list for the most nominations with 9. Chelsea follows with 8, Manchester United have 7, Real Madrid 6, AC Milan 5, Bayern Munich 4, Arsenal 3, Liverpool and Inter 2 and there is 1 each from Juventus, Internazionale, Sevilla, Valencia, Villareal, Tottenham Hotspur, Olympique Lyon, Celtic, FC Porto, CSKA Moscow and Zenit St Petersburg.
European Champions Spain leads the way with the most players in the short list with 9, followed by 8 from Italy, 6 from England, 5 from Portugal, 4 from Brazil, Argentina and France, 3 from Holland, 2 from Germany and Russia, and Poland, Serbia, the Czech Republic, Sweden, Ghana, Ivory Coast, Bulgaria, Togo and Cameroon each provide 1 player in the 55.
The 55 player shortlist in full is: (Home country/ Club 2007/2008)
Goalkeepers: Artur Boruc (Poland/ Celtic), Gianluigi Buffon (Italy/ Juventus), Iker Casillas (Spain/ Real Madrid), Petr Cech (Czech Republic/ Chelsea), Edwin van der Sar (Holland/ Manchester United)
Defenders: Daniel Alves (Brazil/ Sevilla), José Bosingwa (Portugal/ FC Porto), Fabio Cannavaro (Italy/ Real Madrid), Ricardo Carvalho (Portugal/ Chelsea), Gaël Clichy (France, Arsenal), Ashley Cole (England/ Chelsea), Patrice Evra (France/ Manchester United), Rio Ferdinand (England/ Manchester United), Philipp Lahm (Germany/ Bayern Munich), Ferreira Lucio (Brazil/Bayern Munich), Paolo Maldini (Italy/ AC Milan), Alessandro Nesta (Italy/ AC Milan), Képler Laveran Lima Ferreira 'Pepe' (Portugal/ Real Madrid), Carles Puyol (Spain/ Barcelona), Sergio Ramos (Spain/ Real Madrid), John Terry (England/ Chelsea), Nemanja Vidic (Serbia/ Manchester United), Gianluca Zambrotta (Italy/ Barcelona), Javier Zanetti (Argentina/ Inter), Yuri Zhirkov (Russia/ CSKA Moscow).
Midfielders: Anderson Deco (Portugal/ Barcelona), Michael Ballack (Germany/ Chelsea), Mickaël Essien (Ghana/ Chelsea), Gennaro Gattuso (Italy/ AC Milan), Cesc Fabregas (Spain/ Arsenal), Steven Gerrard (England/ Liverpool), Andrès Iniesta (Spain/ Barcelona), Ricardo Kaká (Brazil/ AC Milan), Frank Lampard (England/ Chelsea), Javier Mascherano (Argentina/ Liverpool), Andrea Pirlo (Italy/ AC Milan), Franck Ribery (France/ Bayern Munich), Marcos Senna (Spain/ Villareal), Wesley Sneijder (Holland/ Real Madrid), Xavi (Spain/ Barcelona).
Forwards: Andrei Arshavin (Russia/ Zenit St Petersburg), Dimitar Berbatov (Bulgaria/ Tottenham Hotspur), Didier Drogba (Ivory Coast/ Chelsea), Samuel Eto'o (Cameroon/ Barcelona), Thierry Henry (France/ Barcelona), Zlatan Ibrahimovic (Sweden/ Inter), Lionel Messi (Argentina/ Barcelona), Ruud van Nistelrooy (Holland/ Real Madrid), Ronaldinho (Brazil/ Barcelona), Cristiano Ronaldo (Portugal/ Manchester United), Wayne Rooney (England/ Manchester United), Carlos Tévez (Argentina/ Manchester United), Luca Toni (Italy/ Bayern Munich), Fernando Torres (Spain/ Liverpool), David Villa (Spain/ Valencia).
The final World XI and the FIFPro World Player of the year will be announced at 27 October 2008.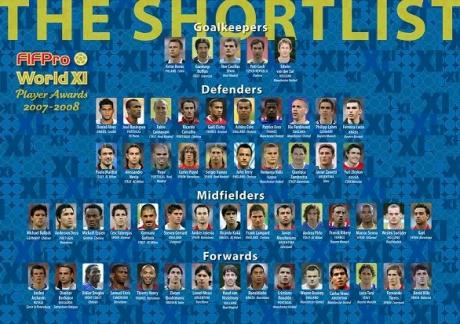 55 players shortlisted for FIFPro World XI Player Awards